An influential US naval officer has fired a warning at China for fast and quickly building "a Great Wall" of a man made artificial islands across hotly-contested areas of spratly
Admiral Harry Harris soon to take charge of Pacific Command, told a naval conference in Australia that competing territorial claims by several nations in the South China Sea are "increasing regional tensions and the potential for miscalculation and may possibly heading to a confrontation."
SEE ALSO: US to Stop China on Sea Reclamation at Spratly
"But what's really drawing a lot of concern in the here and now is the unprecedented land reclamation currently being conducted by China," he said.
"China is building artificial land by pumping sand on to live coral reefs — some of them ­submerged — and paving over them with concrete.
"China has now created over 4 square kilometers (1.5 square miles) of artificial landmass, roughly the size of Canberra's Black Mountain Nature Reserve."
Harris said the region is known for its beautiful natural islands, but "in sharp contrast, China is creating a great wall of sand with dredges and bulldozers over the course of months".
Admiral Harris said the Indo- ­Asia-­Pacific region was known for its mosaic of beautiful natural islands, from the Maldives to the Andamans, from Indonesia and Malaysia, to the Great Barrier Reef and Tahiti.
"And I live in the beautiful ­Hawaiian Islands, in one of ­nature's great creations, a ­magnificent geography formed by millions of years of volcanic ­activity," he said.
"When one looks at China's pattern of provocative actions ­towards smaller claimant states the lack of clarity on its sweeping nine­-island line claim that is ­inconsistent with international law and the deep asymmetry between China's capabilities and those of its smaller neighbours, well it's no surprise that the scope and pace of building man-made islands raises serious questions about Chinese intentions.
"How China proceeds will be a key indicator of whether the ­region is heading towards confrontation or co-operation."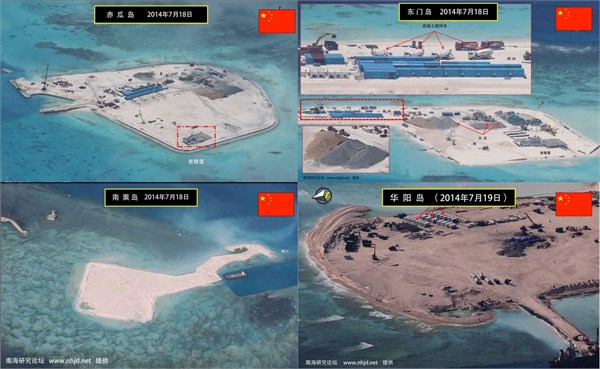 China claims virtually all of the South China Sea. The Philippines and other countries which have territorial disputes with China in the busy sea have been particularly concerned by the land reclamation projects, which have turned a number of previously submerged reefs in the Spratlys archipelago into artificial islands with buildings, runways and wharves.
The islands could be used for military and other facilities to bolster China's territorial claims.
Harris said the pace of China's construction of artificial islands "raises serious questions about Chinese intentions."
The US says it has a national interest in the peaceful resolution of the disputes in a region crucial for world trade. China says its territorial claims have a historical basis and objects to what it considers US meddling.
Harris said the United States is on track to reposition 60% of its navy to the Pacific fleet by 2020.
"By maintaining a capable and credible forward presence in the region, we're able to improve our ability to maintain stability and security," he said. "If any crisis does break out, we're better positioned to quickly respond."