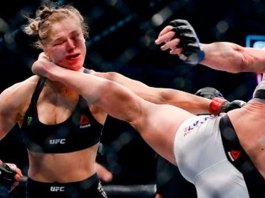 A big lost for Ronda Rousey versus Holly Holm at the UFC 193 main event on Saturday in front of a huge crowd at the Etihad Stadium in Melbourne, Australia.
The world was shocked at Holy Holm as she landed a vicious second-round head kick knockout over Ronda Rousey to cap off UFC 193.
Holm was touted as the toughest challenger to Rousey's title ever since she signed to the UFC, but she walked into the fight as much as a 20-to-1 underdog.
That all changed when the battle began as Holm showed poise and a picture-perfect strategy used to dismantle Ronda Rousey strategy in under six minutes.
This marks the first loss in Rousey's mixed martial arts career and after she was helped up to a stool following the knockout, she made her way out of the Octagon before speaking to UFC commentator Joe Rogan. Rousey was undoubtedly stunned not only from the knockout but watching Holm put together the most flawless performance of any opponent she's ever faced. - Robert Beerlak
Also, watch this weigh-in, Ronda Rousey and Holly Holm.