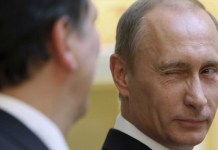 In a press conference at the Valdai Discussion Club on October 24, 2014 in Sochi City, Russian president Vladimir Putin answers a question from a United States journalist. In the statement, Putin expressed his concerns in regards to U.S. role in the middle east and ISIS.
The following footage has been banned to the public, but Live Leaks is able to release a copy of the press conference.
Putin's statements are transcribed below from a video provided by Inessa S.
The following video was translated by Inessa S, all credits goes to her.