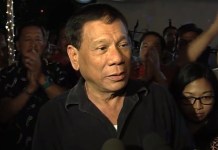 WATCH: Davao City Mayor Rodrigo Duterte finally said his candidacy for president is already "on the table," following SET's decision on Sen. Grace Poe's citizenship. #Halalan2016Read the full story here: http://bit.ly/1PGhn4A

Posted by ABS-CBNnews.com on Saturday, November 21, 2015
Davao City Mayor Rodrigo Duterte's announcement that he will run for president on Saturday night of November 21, 2015 made his supporters rejoice, and sets social media on fire.
Duterte expressed his disappointment on a ruling by Senate Electoral Tribunal (SET) after they voted against petitions to disqualify Grace Poe on the grounds of her citizenship.
"What made me decide to run? Was it an offer for money? No," he said. Gusto ko lang sabihin sa lahat stop [F-word] with the Filipinos… I have nothing against Grace but if you run for the highest post in the land… it must be reserved for a true-blue Filipino," Duterte said.
"If she can prove she is Filipino then I will step down. I will be her (Poe) campaign manager." he added.
Duterte still has until December 10, 2015 to change the filing of his candidacy as mayor of Davao to President as a substitute to PDP-Laban's former standard bearer Martin Dino.
Some social media users celebrated while others show disappointments of the mayor's ever changing decision for presidency in the upcoming election.
"Narrow minded people will say- bakit urong sulong? (Tho he never said he will run until now. We just assumed he will run but he always said no until now).
Now that he has decided, lets be thankful and lets support him coz of all the people running for president, he is the only one whom we feel compassionate about the poor, about change, about oppression and corruption." Jake Ortega Lusabe II said.
"Will vote straight for Duterte's line up" says Mellani Comeso De Veyra
"Ang susunod na pangulo ng Republika ng Pilipinas (The next President of The Republic of the Philippines)…Rodrigo Duterte" Puffmaki Perez added.
Here are some who shows frustrations.
"For sure the votes will be divided between duterte and santiago which is not gonna be good" writes Brian Russel Batocabe.
"No word of honor! Never realiable…" Alexander Kuch writes
"Nakakainis minsan tong pahayag ni mayor tatakbo Hindi.. Pero ngayon makapag disisyon na si mayor suportahan na Lang natin to mga bro and sis…. (Mayor Duterte's words whether to run or not are sometimes annoying, but since he already decided to run, lets just support him brothers and sisters.)" writes Jarry Bedaño.
Here is a longer video of the interview.