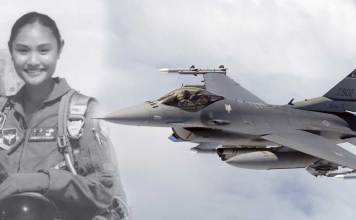 MANILA, Philippines - In the intense field of military pilots where male rules preeminent, a valiant 33-year-old Filipino lady beat the chances to turn into the first Filipina to fly the supersonic F-16 fighting Falcon fighter jet that carried combat missions in Iraq as an individual from the United States Air Force (USAF)
The F-16 Fighting Falcon or most commonly known as the "Viper" is a state-of-the- art fighter aircraft. It has been a high-performance weapon system for the US and allied nations for it has been used in numerous air-to-air combats. This specific aircraft has exceeded all the potential threat fighter air crafts. Its feature as an offense-defense weapon is very precise that it can perform on any weather condition. This kind of plane is a complicated device meant to be handled by highly qualified pilots. The F-16 or the Viper has played vital roles in most of America 's wars with the most recent being in support of Operation Iraqi Freedom. An F-16 fighter plane is what Monessa Catuncan navigates.
Capt. Monessa Catuncan was highlighted by the Asian Journal for her exceptional accomplishments as a pilot of an F-16 fighter jet. She is the youngest daughter of Filipino immigrants Mr. & Mrs. Ramon Catuncan, formerly lives in Pasay City and Olongapo City but now situated in Mesquite, Texas.
But before Monessa even set foot to the elite US Air Force, this humble Pinay, like almost everybody else earned her way to success.
"I think I want to be an astronaut," her father Ramon Catuncan recalled her saying after she saw "Armageddon" while a sophomore at the Mesquite High School.
"I told her it would require a lot of hard work to realize her ambition but she told me that would not deter her," he said.
He said her daughter's favorite foods are adobo, afritada and kare-kare.
Indeed, even in her initial years in school, Monessa exceeded expectations in scholastics, graduating valedictorian in a class of 693 in Mesquite High School in Texas in 2000.
Catuncan said that while his daughter was still in high school she caught the attention of the Coast Guard, who invited her in 1999 to Connecticut to interest her in becoming a Coast Guard helicopter pilot.
Monessa went to Connecticut for about two weeks to check out the Coast Guard but in the end she said she was not interested in flying helicopters. She wanted to be a fixed wing pilot.
After graduating at the top of her high school class in Dallas County, Texas, Monessa enrolled at the US Air Force Academy in Colorado Springs and majored in aeronautical engineering.
Like all of her colleagues, Monessa went through an Undergraduate Pilot Training (UPT) before becoming a fighter pilot. However, she didn't just pass her UPT – she excelled in it.
That same year. While at USAFA, Monessa, aside from pursuing her desired career as part of the US Air Force, served as a Squadron Commander, a Division-1 tennis player, a Glider Instructor Pilot, and a member of the Glider Acrobatic Team, among other essential positions. In 2004, Monessa graduated with a Bachelor of Science degree in Astronautical Engineering from the USAFA.
Monessa proved herself, and finished the course as one of the top student-pilots in her class. She was then chosen to fly either a fighter or a bomber aircraft. After her course at Moody Air Force, she went to Laughlin Air Force Base in Del Rio , Texas and Sheppard Air Force Base in Wichita Falls to fly the T-38. In her training there, Monessa learned the basics of formation flying, offensive and defensive fighter maneuvering, and surface attack bombing techniques. Monessa went through intense studying and was put in a variety of stressful situations in order to pass this training.
From flying T- 38, she had an option of choosing from different aircraft like the F-15E Strike Eagle, F-15C Eagle, F-16 Fighting Falcon, B-1B Lancer, A-10 Warthog, B-52 Stratofortress, and F/A-22 Raptor, and T-6 or T-38 are also options. After her T-38 course, Monessa requested to fly an F-16 Falcon, and she got what she wanted.
Monessa went through with her training to hone her skill at maneuvering fighter jets at Luke Air Force Base in Phoenix, Arizona where she learned how to control and apply tactics of the F-16 Fighter Falcon, or Viper. Monessa finished her course at Luke Air Force Base with flying colors and was part of the "Lucky number 13" graduate from class 2007. She was the only woman in her group, not to mention the only Filipino to pass the much-coveted pilot course.
She was commissioned as a USAF second lieutenant in 2004 and after training as an F-16 jet pilot was sent to Iraq with the 34th Fighter Squadron to support US ground troops in close air support missions.
Early this year she was promoted to captain and assigned at Hill Air Force Base in Salt Lake City, Utah.
As the first Filipina to fly the F-16, Capt. Catuncan "also carries the Philippine flag and the pride of the country it represents and the people in it."
The US Air Force is an elite organization and to a pilot, an F-16 fighter plane is a prized possession. Monessa, through her perseverance and hard work, has earned not only the fly the F-16, but also the pride and honor of defending the United States, as well as making the Filipinos proud.
By: Jason E.