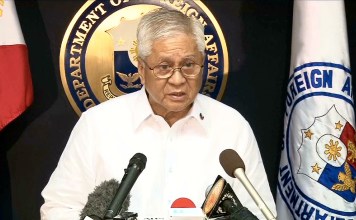 Foreign Secretary Albert del Rosario, the Philippines' top diplomat, has resigned due to health reasons, del Rosario is stepping down from office in less than a month, officials said Monday, February 8.
President Benigno Aquino III has accepted del Rosario's resignation, which will take effect on March 7, presidential spokesman Herminio Coloma Jr. said.
Coloma Jr. did not describe the reason for the resignation of Del Rosario, however, sources said that del Rosario has been suffering from a spinal problem and a recently detected heart ailment.
"The president is kind enough to allow me to step down so I can fully address certain personal health issues," Del Rosario told Reuters in a text message responding to a request for comment.
Rosario was behind the Philippine government's bold move to challenge China's huge territorial claims in the South China Sea under the 1982 United Nations Convention on the Law of the Seas before an international arbitration tribunal at the Permanent Court of Arbitration in The Hague, Netherlands.
China has refused to join the arbitration, which has been backed by the U.S. and other Asian countries. The arbitration court's decision is expected in May or June. Despite the South China Sea conflict, Del Rosario called on China to continue its normal economic ties with the Philippines.
Also know as a hands on diplomat, Del Rosario impressed many specially overseas Filipino workers (OFW), when he flew to the Middle East to ensure the safety of thousands of OFW's evacuating from Libya, just days after being appointed as foreign secretary in 2011.
Del Rosario is a well-known businessman and the countries' ambassador to the US from 2001 to 2006. before serving as Department of Foreign Affairs (DFA) chief since February 24, 2011.
He graduated from Xavier High School in New York and attended college at New York University, graduating with a degree in Economics. In 2006, he was elevated to the Xavier High School Hall of Fame. -John Esconde