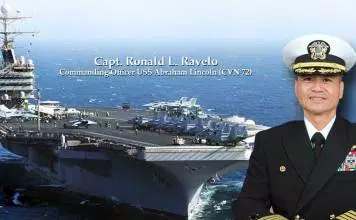 For the first time in the history of the United States Navy, a Filipino-American service member is in command the helm of a carrier.
Captain Ronald Ravelo, a son of a retired US Navy chief from the Philippines, became the commander of the USS Abraham Lincoln a United States Navy's largest aircraft carriers is now doing a major systems overhaul under the watchful eye of a history-making Filipino-American captain.
It has been a year since US Navy Captain Ronald Ravelo relieved his brother-in-law, Capt. Karl Thomas, as commander of the USS Abraham Lincoln -a Nimitz-class aircraft carrier named after the former US President.
The wife of Capt. Karl Thomas, Jennifer, is the sister of Ravelo.
Ravelo also became the first Filipino-American to take command of a carrier. Thomas, the outgoing commander of the Lincoln, will lead the USS Carl Vinson.
Commissioned in 1989, USS Lincoln will be remembered for its role in the largest peacetime evacuation in history. When Mount Pinatubo erupted in 1991, Lincoln carried 45,000 active military personnel and their families from Zambales to Cebu.
USS Abraham Lincoln -a Nimitz-class aircraft carrier
This massive undertaking is all under Ravelo's command.
Last March, on the second anniversary of its overhaul process, Ravelo addressed more than 2,500 member/ crew.
"It's pretty daunting, the amount of work that goes into re-outfitting an aircraft carrier after 25 years of service. As you can imagine, it's quite challenging," he said.
Ravelo said, "We only got 10 of these capital ships in the United States Navy so I think just to be honored and had been selected to command it, that in itself is a point of pride."
A son of a retired US Navy officer Ben Ravelo. Ben was with the Philippine Navy, left the Philippines to serve in a country whose language he did not even know.
Ronald was born in Okinawa, Japan and raised in San Diego, California. He lived with his grandmother in Makati, Philippines while his father Ben was stationed in Saigon.
"Family is very important, critical part of the Filipino culture and that was probably the one thing that I remembered most dearly about that time in the Philippines," he said.
In 2006, Ravelo was selected to the Navy Nuclear Propulsion Program and completed his tour as executive officer of USS Ronald Reagan.
In 2013, he commanded USS Comstock before he got promoted to commanding officer of USS Lincoln in 2014.
"The Navy is probably one of those few organizations where any sailor, we all come in with the understanding that with a lot of hard work, dedication you can get as far as the sky is the limit," he said.
Capt. Ravelo is a recipient of several awards including the 2007 Commander, Naval Air Forces Navy and Marine Association Outstanding Leadership Award.
"Just remaining hungry, remain dedicated and working really hard that's really what it takes to get to my level and any level," he said.
Under Ravelo's command, the USS Abraham Lincoln is expected to be operationally and combat-ready by 2017.
Video footage courtesy of abs,cbn.
Capt. Ronald L. Ravelo's historical military service background
Captain Ravelo hails from San Diego, Calif.  He is a 1987 graduate of the University of Southern California, where he earned his Bachelor of Science degree in Industrial and Systems Engineering through the NROTC program.  Upon graduation and commissioning he reported to NAS Pensacola to commence flight training and was subsequently designated an unrestricted naval aviator in September 1989.
Captain Ravelo has proudly served with the Chargers of HS-14 in all of his fleet aviation tours, eventually commanding the squadron from 2005 to 2007.  As a Charger he flew the SH-3H in USS RANGER (CV 61) and the SH-60F/HH-60H in USS KITTY HAWK (CV 63). During his tours with the Chargers he participated in OPERATION DESERT STORM, OPERATION SOUTHERN WATCH, and OPERATION RESTORE HOPE.  During his command tour
the squadron established the first helicopter detachment in support of OPERATION ENDURING FREEDOM, PHILIPPINES and JTF-510/515.
His shore assignments include Instructor Pilot in HS-10, Flag Lieutenant to the Commander, U. S. FIFTH Fleet, Helicopter Shore Assignments Officer in the Bureau of Naval Personnel (Pers-43), and Maritime Division Chief on the staff of North American Aerospace Defense Command.  Captain Ravelo is a distinguished graduate of the University of Redlands, earning a Master of Arts in Management, and is a graduate of the Naval War College where he earned a Master of Arts in National Security and Strategic Studies.  He completed advanced studies in National Preparedness and Leadership through Harvard University's Kennedy School of Government and School of Public Health.
Captain Ravelo was selected to the Navy Nuclear Propulsion Program in October 2006 and completed his tour as Executive Officer of USS RONALD REAGAN in November 2010.  Captain Ravelo commanded USS COMSTOCK (LSD 45) from February 2013 to April 2014 and was selected for CVN Sequential Command in October 2013.
Captain Ravelo's personal awards include the Defense Superior Service Medal, Legion of Merit, Meritorious Service Medal, Air Medal, Navy Commendation Medal and Navy Achievement Medal.  He was awarded the 2007 Commander, Naval Air Forces Navy and Marine Association Outstanding Leadership Award for his tour as CO of the Chargers.
USS Abraham Lincoln (CVN 72) is America's fifth Nimitz-class aircraft carrier.  The ship was named in honor of our nation's 16th president and is the second ship in the U.S. Navy to bear his name.
By: Jason E.