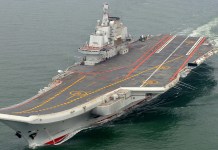 The deployment will likely occur when the Chinese People's Liberation Army Navy's second aircraft carrier is fully operational, a professor in Beijing told IHS Jane's.
"For the Northern Sea, Yellow Sea, and Eastern Sea, China does not need an aircraft carrier. Chinese land-based [aircraft] are capable of reaching places like the Diaoyu Islands," said Professor Chu Shulong, the director of the Institute of International Strategic and Development Studies at Tsinghua University in Beijing, in reference to Senkaku Islands, a Japanese claimed territory.
However, the same cannot be said in the South China Sea. "Should the Americans send their aircraft and ships into the South China Sea, China currently does not have the aerial capacity to deal with such a challenge," Chu said.
It will take about an hour for Chinese fighter aircraft from the nearest airbase on Hainan Island to reach the southern regions of the South China Sea, he added.
The United States' sending a guided missile destroyer for a freedom of navigation operation has convinced Chinese military leaders that an aircraft carrier deployment in the South China Sea is necessary going forward, he added.
China claims almost the entire South China Sea which Indonesia, the Philippines, Vietnam, Brunei, Malaysia, and Taiwan also have overlapping claims. -John Esconde