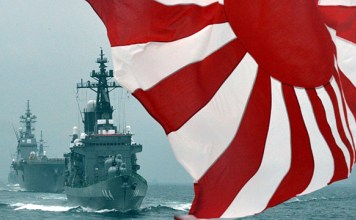 Seventy years after its imperial forces were kicked out of the South China Sea, Japan is quietly moving back into the region, forging security ties with the ‪Philippines‬ and ‪Vietnam‬ as both Southeast Asian nations try to cope with China's territorial ambitions.
Japan will involved in joint naval training exercises with Vietnam and the Philippines. The two countries have been Chinas's biggest challengers when it comes to vocalizing their own sovereignty claims in the region. Japan has reportedly offered 10 coast guard ship in the area of what will be the first naval exercises between the Philippines and Japan in upcoming months. The two countries forged a security fact in Tokyo in January also confirmed regular meetings between vice ministers regarding defense.
Tokyo has no territorial claims in the South China Sea, but worries about becoming isolated should China dominate a waterway through which much of Japan's ship-borne trade passes.
Japan's assistance follows a speech last May by Prime Minister Shinzo Abe, who said Tokyo would help Southeast Asia maintain freedom of navigation and overflight in the region.
The cooperation is also in line with a more muscular security policy advocated by Abe, who wants to loosen the restraints of Japan's pacifist post-war constitution, and dovetails with Washington's "rebalance" toward Asia.
Japan's principal security interest in Southeast Asia is the safety and security of regional sea lanes.Over the past several years, Japan has expressed growing concern at rising tensions in the SouthChina Sea and the lack of progress by the claimants to negotiate effective conflict management mechanisms. Japan is not a claimant in the dispute, but as a major maritime trading nation, it is a significant stakeholder.
Japan has two major concerns over the South China Sea. First, that instability has the potential to disrupt the free flow of maritime trade on which the country's economic prosperity depends, and, second, that if China is able to persuade or coerce other Asian nations into accepting its claimed 'historic rights' in the South China Sea, existing international legal norms would be undermined. Moreover, Tokyo is alarmed at China's increasingly assertive posture in the maritime domain, and views the disputes in the South and East China Seas as linked. Tomitigate its concerns over the South China Sea.
Japan is pursuing a number of strategies:
1. Raise the problem at regional security forums.
2. Seeks to enhance cooperation with the Association of Southeast Asian Nations on issues of maritime security and encourage unity within the organization on the South China Sea.
2. Discuss the problem bilaterally with Southeast Asian countries and start to provide capacity-building support to selected claimants   (principally, the Philippines).
3. Seeks closer ties with other external stakeholders that share its concerns.
SEE ALSO THIS: Japan's Two Soryu Class Submarine for the Philippines Now Considered