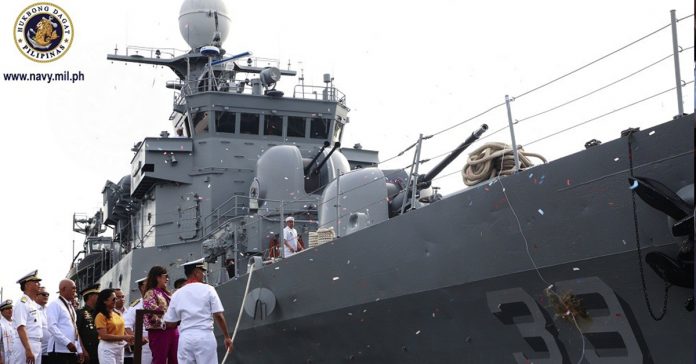 Manila– Philippine Navy's (PN) newly-acquired vessel from South Korea, BRP Conrado Yap (PS39), finally arrived in Manila with a momentous welcome ceremony accorded by the PN at Pier 13 here this afternoon today. Similarly, the event was also supposed to celebrate the coming home of the 300-man Philippine contingent aboard BRP Davao Del Sur (LD602) after its historic port visit to Vladivostok, Russia to participate in their Navy Day celebration.
Secretary of National Defense (SND), Delfin N. Lorenzana, was the guest of honor of the ceremony leading all spectators in witnessing the ex-Pohang-class corvette finally reaching its new home, the Philippines. He was joined by the Navy Chief Vice Adm. Robert Empedrad, AFP Chief of Staff Gen. Benjamin Madrigal, and other AFP senior officials.
Families and friends of the returning sailors and marines flocked Pier 13 to welcome their loved ones comprising the PS39's maiden crew led by the commanding officer Capt. Marco Buena, and the LD602-aboard Naval Task Group (NTG) 80.5 headed by its commander, Capt. Richard Gonzaga.
A blessing ceremony for PS39 was later conducted administered by Naval Chief Chaplain and assisted by SND Lorenzana's wife Editha as lady sponsor who initiated the traditional smashing of a sacrificial bottle of champagne over its bow.
PS39 and LD602 were initially given honors by the PN through a meeting procedure conducted by BRP Emilio Jacinto (PS35) and a fly-by of naval helicopters as they entered Manila Bay. Both ships were sent off by the Republic of Korea Navy on the same day and they met at sea for a group sail and conduct of naval maneuvers while underway to Manila. It can be recalled that LD602 proceeded to South Korea from Vladivostok, Russia to accompany the PS39 home.
Regarded as the PN's "most powerful ship" to date, BRP Conrado Yap will certainly provide a significant boost to the PN's capability in patrolling and safeguarding our maritime nation and territorial limits. It will also serve as transition platform in empowering and upgrading our sailors' knowledge and skills in handling such high-level and advanced equipment/vessel especially with the impending delivery of modern frigates in the next two years.
Likewise, LD602's journey to Russia, South Korea and back to the Philippines further elevated the PN's status as a Navy that is now capable to sustain operations across open oceans to promote naval diplomacy and capacitate all personnel through foreign exposures, hands-on training and actual operations.
- Philippine Navy