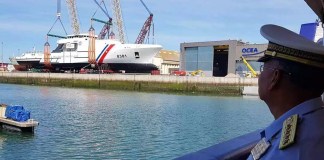 Philippine Coast Guard's first Offshore Patrol Vessel (OPV) was formally launched in OCEA shipyard in France today, July 17.
PCG Commandant, Admiral Elson E Hermogino, together with Deputy Chief of Coast Guard Staff for Strategic Studies and Modernization, Captain Ferdinand B. Picar, and PCG Spokesperson, Captain Armando A. Balilo, including officials from the Department of Transportation and Maritime Industry Authority attended the said launching.
"Ang barko ay aasahang darating sa Maynila sa unang linggo ng Disyembre ngayong taon upang tapusin ang mga kailangang kumpunuhin at ang training para sa 18 PCG personnel na magiging sailing crew nito na magsisimula sa ika-1 ng Setyembre hanggang sa huling linggo ng Oktubre," according to Coast Guard statement.
The OPV, which will be commissioned in the PCG service as Barko Republika ng Pilipinas (BRP) Gabriela Silang, is the first vessel fully designed as an offshore patrol vessel. It incorporates a specific modern design with low radar cross-section to lessen reflectability and a modern hull design capable of ocean voyage and operations in rough sea condition.
Photo Credit: Philippine Coast Guard
It will be utilized in patrolling the West Philippine Sea, Benham Rise and in other anti-piracy and terrorism campaigns of the government in the Southern Philippines.
This 83.6-meter long vessel has a maximum speed of 20 knots and it has an endurance that will take up to 22 days long and can accommodate 64 crew onboard.
OPV is equipped with a mission management system (MMS) with dedicated command and control center, which integrates vessel's sensors such as radars, automatic identification system (AIS), communications equipment, surveillance equipment, day and night vision camera, etc.  The MMS utilizes advanced technologies in computer and radio techniques to significantly improve the operational efficiency of users providing a multi-user system that can compile and maintain a tactical Common Operation Picture, allowing even the onboard rigid inflatable boats to have access to the situation picture and to improve the control of operations.  It is also capable of situation consciousness, target detection, tracking and information, record and replay, information display, and exchange of information with other units.
This OPV is also capable of responding to marine environmental pollution such as oil spills using its onboard containerized anti-pollution equipment.  Meanwhile, it is Hyperbaric Chamber will be useful for treating diving sickness and its survivor room is capable of accommodating rescued persons.
Aside from all these, the vessel has two onboard 9-meter Rigid Hull Inflatable Boats (RHIBs) with speed of 40 knots specially designed for law enforcement to include visit and boarding of other vessels.
It was signed into contract last 09 September 2014 with contract cost of €97,032,507 equivalent to Php 5,593,623,382.06.
The OPV is made by the OCEA shipbuilder in France under the Philippine Ports and Philippine Coast Guard Capability Development Project with the Department of Transportation as the implementing agency.
To finance the implementation of this project, President Rodrigo Duterte issued Presidential Authority on January 10, 2017, authorizing Department of Finance Secretary Carlos G Dominguez to enter into a financing agreement with BNP Paribas (France).
Its main engine is a hybrid engine of diesel-electric type, which is the first vessel under PCG to utilize diesel-electric engine.  Included as well in the contract is the Integrated Logistics Support which pertains to spare parts supply and maintenance services for 5 years.
Included in this project are the four 24-meter Fast Patrol Boats that were already completely delivered last year.
OPV is expected to arrive in Manila on the first week of December this year after completing the provisional requirements and the training of 18 PCG personnel as its Sailing crew starting September 1 up to the last week of October.
Philippines Coast Guard