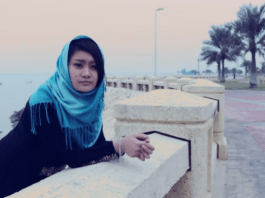 A young Filipina who composed "Goodbye my KSA, Goodbye," on Youtube has gone viral in Saudi Arabia over the past few days.
The video clip was uploaded last July and now it has already reached more than 250,000 views on You tube Channel and Arabic e-magazine sites since it was posted a week ago.
The video shows the story of a Filipino woman that worked for almost 20 years in Saudi Arabia and needs to return home to take care of her ill sister. Isolated between her hesitant to leave the nation she calls her second home and has developed to love and her obligation to deal with her sick sister back home, she came up with the song.
An Arab News who asked and interview some Saudis who watched the clip said, they were exceptionally very impressed and moved.
A well-known tourism promoter and deputy chairman of Al-Hokair Group for Tourism and Development, Majid Al-Hokair said, that the clip moved his heart and brought tears to his eyes.
He said."We see how deeply our guest workers feel toward our country. This makes us very grateful for their feelings, commitment, and contributions to building our country along with us."
Same as Omar Al-Jasir, director of Culture and Arts Society in Jeddah, said the clip was very emotional. "The song tells us that our real home may not be the one in which we are born, but the one in which we live meaningfully with people, friends, and places."
A news online magazine the Filipino MENSAHERO explained that the original song was written by J. Nava Cruz, an OFW freelance writer/author in the Philippines and was meant to be dedicated to Saudi Arabia and was sung by a Filxygmir Moneva (the woman in the video).
Likewise, the video clip was made by a group of overseas Filipino professionals which includes the group of Teofilo "Jojo" Bitoon, musical arranger, Peter John Tan, sound engineer, Marvin Domalaon, video editor, and Rodel Menda, director. - Carl E.