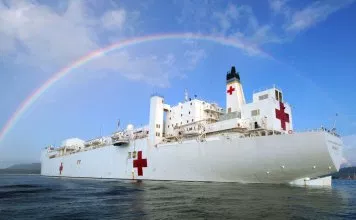 Hospital ship USNS Mercy (T-AH 19) arrived in Guam May 31 in assistance of Pacific Partnership 2016.
While in Guam, staff aboard the ship will engage in a field training operation to train mission personnel prior to the first mission stop. Mercy is also taking on supplies, additional crew, both civilian and military, during the stop.
Next to Guam, The ship will visit Timor-Leste, the Republic of the Philippines, Vietnam, Malaysia and Indonesia, where Pacific Partnership personnel will participate in cooperative subject-matter expert and civil-military exchanges, focused on disaster response preparedness, emphasizing the importance of cooperation on a regional scale.
USNS Mercy visited Manila, Roxas City and Subic last year, April.
Throughout the mission, crewmembers will engage in side-by-side humanitarian and disaster relief drills, medical, and civil engineering training projects, as well as community health exchanges, medical and disaster preparedness symposia.
Pacific Partnership 2016 will boost regional stability, security, open dialogue between leaders, and foster new and lasting alliance across the Indo-Asia-Pacific.
Pacific Partnership is in its 11th year and began in response to the December 2004 tsunami that devastated parts of Southeast Asia. Pacific Partnership 2016 is focused on enhancing relations and multi-national interoperability through knowledge exchange and side-by-side training, securing partner nations are prepared to respond when disaster strikes.
"I think it's a great opportunity and I feel honored to be a part of the mission and to augment the staff that's aboard," said Lt. Col. Andrew Rice, deputy chief of staff of Pacific Partnership 2016. "I'm really looking forward to our deployment to the five countries this summer and to working with military personnel from the other services and to work on the same staff with partner nations."