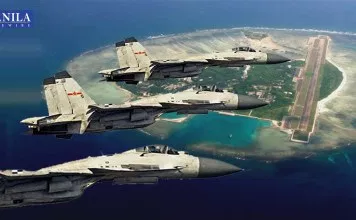 Beijing is ready to declare and enforce an Air Defense Identification Zone (ADIZ) in order for China exercise monitoring and control of any military and civilian aircraft movement in the disputed West Philippine Sea.
A report from a China's state-run news media, the South China morning post, said officials from the People's Liberation Army is waiting for the right moment to impose it, "it is simply a matter of time to easily control the entire South China sea."
An ADIZ based on the exclusive economic zones of its 7 artificial islands in the Spratlys, as well as of Woody Island in the Paracel Islands.
However, the media source said the enforcement would ­depend on security conditions in the region.
South China morning post said, "On the off chance that the US military continues making provocative moves to test China's power in the area, Beijing will give a green signal to declare an ADIZ in the South China Sea."
The focused on China's ADIZ is seen to cover with the Exclusive Economic Zone's (EEZs) of other  claimants in the region, like the Philippines, Vietnam, and Malaysia. - Carl E