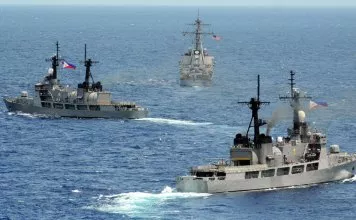 The U.S., Philippine, and Malaysian navies are scheduled to conduct a coordinated multilateral training activity in the Sulu Sea, June 4.
"This engagement is an important milestone as we seek opportunities to increase multilateral cooperation for the CARAT exercise series," said Rear Adm. Charles Williams, commander, Task Force 73. "The training provides our navies with an opportunity to broaden cooperative maritime security coordination with our partner nations as we would during real world contingencies or operations."
Ships and aircraft from the U.S. Navy will operate with separate surface action groups from Malaysia and the Philippines. The multilateral training will test the abilities of all three navies to coordinate maritime security operations in a geographically separated environment at sea.
"This multilateral training increases understanding and cooperation between our navies," said Rear Adm. Pahlawan Mohammad Adib bin Abdul Samad of the Royal Malaysian Navy. "Through greater maritime cooperation our navies can work together to enhance security and stability across the region."
The Arleigh Burke-class guided-missile destroyer USS Stethem (DDG 63) will operate with Royal Malaysian Navy ships during the training, while Whidbey Island-class dock landing ship USS Ashland (LSD 48) will sail alongside ships from the Philippine Navy.
"This training activity allows our navies to coordinate and interoperate more effectively and efficiently during crises and contingencies at sea," said Rear Adm. Ronald Joseph S. Mercado, commander, Philippine Fleet. "As navies, we share common bonds of cooperation in the maritime environment."
"Our ability to coordinate and communicate from various operational locations allows us to enhance regional cooperation at sea," said Capt. H.B. Le, commodore, Destroyer Squadron 7. "These activities benefit all nations and prepare us to work together more efficiently."
As the premier naval engagement in South and Southeast Asia, CARAT provides a regional venue to address shared maritime security priorities, enhance interoperability among participating forces, and develop key relationships that will serve partner nations for many years to come.
The participating ships will conduct communication drills, maritime security coordination, and maritime domain awareness training. A U.S. Navy P-8 Poseidon maritime patrol craft and USNS Montford Point (T-ESD 1) will also operate in the region and rehearse communication and security drills with ships and aircraft from all three nations.