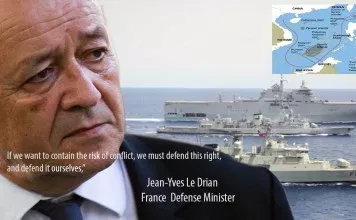 France will encourage European Union countries to organize a naval patrol to ensure a "regular and visible" presence in the disputed West Philippine sea,(South China Sea) in the most recent indication of international push back to China's expanded military clout in the region.
The French government sees the security protection of freedom of the seas as critical from an economic point of view and is worried that lost such rights in the South China Sea may prompt comparable issues in the Arctic Ocean or the Mediterranean Sea, Defense Minister Jean-Yves Le Drian told participants at a global defense forum, including top Chinese authorities.
Le Drian said at the Shangri-La dialogue in Singapore on Sunday, "In the event that we need to contain the risk of conflict, we must defend this right, and defend it ourselves."
He said so far this year, France's naval force has been deployed three times through parts of the South China Sea. "Several times per year, French navy ships cross the waters of this region and they'll keep on doing it."
European countries have beforehand asked claimant states in the South China Sea -China, Taiwan, and some Southeast Asian nations to resolve their disputes peacefully, while calling for the continuation of free navigation through one of the world's busiest shipping lanes.
Still, there has not so far been a major boost in the military presence from Europe. At the same time, China is expanding its naval force and aerial patrols of the South China Sea and installing defense infrastructure on some reclaimed reefs, amid a broader focus on long-range military capacity in the western Pacific.
Le Drian said, "This is a message that France will continue to be present at international forums," It's also a message that France will keep on acting upon, by cruising its boats and flying its planes wherever international law permits and wherever operational requirements ask for that we do as such."
Le Drian said he lamented that the Association of Southeast Asian Nations had not gained significant ground toward a set of accepted rules with China on the South China Sea. - Jason E.