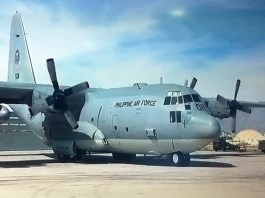 Amidst the issues between the Philippines and the United States of America, the second Lockheed C-130 plane from US will be arriving at the end of September. The first one arrived last April and this second plane was bought at P1.6 billion via the Excess Defense Articles Program.
Col. Araus Robert Musico, an Air Force spokesperson, announced to the media that the C-130 is expected to arrive at the last days of September, but no specific date was given.
"It would increase our capability. This is for rapid deployment capability and for humanitarian assistance and disaster response. We use the C-130 as a platform to transport rescuers, relief goods and equipment to disaster stricken areas," Col. Musico added.
The number of C-130 planes in the Air Force will be increased by 5 including the last one arriving. Air Force also have other transport planes, they have 3 C-295 airbus and 3 Fokker F-27.