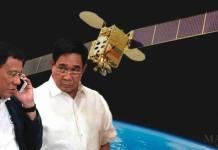 The Philippine government is looking at the utilization of advanced modern satellites to monitor the nation's maritime borders including the tracking of lawless elements and terrorist groups.
According to a National Security Adviser Hermogenes Esperon Jr. He said that aside from boosting the nation's telecommunications network, the government must scale up to such innovation to better screen and secure the nation's resources, aside from boosting the nation's telecommunications network.
During a news conference inside the Malacañan palace, Esperon explained to the reporters that he is really the supporter for the utilization of more satellites in the Cabinet.
Esperon who also presented the government's National Security Policy, the Philippines requires improved satellite surveillance system because it has a massive maritime area.
He said, "We will soon be coming up with the one which will be an imagery satellite to look into such things as oceans and seas."
"Our has such a big area with a large maritime area to the right and to the left and to the — to the south as well as to the north. So, we would wonder why we don't have satellite, imagery satellites."
He said, "In our job, we would constantly look at the threats of terrorism, illegal drugs, criminality, lawlessness, of course, anti-graft and corruption, including illegal gambling."
The satellites could likewise improve the Philippines capability in monitoring nation's territory and also for intelligence gathering to easily battle terrorism and other security threats, Esperon added. - Carl E.