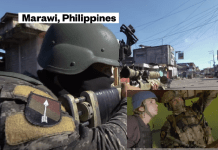 A month ago, the Maute terrorist group that pledged allegiance to the Islamic State (IS) attempted to establish South East Asia's first Islamic State caliphate on the southern Philippines island of Mindanao.
Hundreds of well-equipped militants showed up to join the battle, which has entered its fifth week. More accustomed to jungle fighting than urban warfare, battling in the city's streets is proving harder than expected.
Nearly every day for the past fifth week, the Armed Forces of the Philippines military have pounded the targeted areas in the town of Marawi with rockets and bombs as it tries to wipe out militants linked to the Islamic State group in some of the most protracted urban combat to hit this unpredictable region.
One of the best video footages in the conflict zone is when a VICE News gained exclusive access to embed with the Philippine Marine special forces to find the realities of what Urban Warfare is all about, showing the difficulties of every Philippine Marines, risking and sacrificing their lives on the front line in the conflict zone of Marawi City.
Video footage credit to Vice News and HBO
What is Urban Warfare? - Urban warfare can take many forms, from guerrilla attacks to militia patrols to gang violence, but fighting in cities and towns — where civilians are at risk and combatants can hide more easily — is markedly different from combat in a more open or defined theater of operations. Determining how to assess enemies, mount a defense, and protect civilians is a focus of urban warfare.