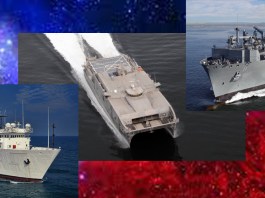 Although misunderstandings and other negative issues are occurring between the Philippines and the United States of America, joint military exercises are still being held for the purpose of intensifying the fight against terrorism and for other West Philippines Sea matters.
And yesterday, September 26 in Subic Bay, 3 more US ships arrived to take part in the military exercises between the two countries.
Currently docked at Alava pier in Subic Bay, USNS Washington Chambers (T-AKE-11), USNS Bowditch (T-AGS 62), and USNS Millinocket (T-EPF-3) joined USS Frank Cable (AS-40) which had arrived last September 10,2016.
The Annual bilateral war games or known as Philippines Amphibious Landing Exercise (Phiblex 33) will be participated by 500 Philippine Armed Forces personnel and about 1,400 US service members based in Japan, this is according to the US Embassy in Manila.
Phiblex 33 is expected to be held from October 4 to October 12.
The US embassy said in a statement that the Philippines and US troops "would be working side by side to grow capabilities and better prepare to operate together during a natural disaster or armed conflict".
Though BRP Tarlac had been in a collision accident last September 19, it will still be participating in the Phiblex 33.