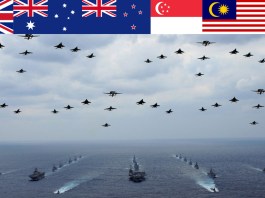 This month, 6 countries from around the world will be participating in war games in the South China Sea as their message for China to stop its claiming in the disputed territories in which many other countries are involved.
The countries of Britain, Australia, New Zealand, Singapore, Malaysia and Indonesia agreed to do a 3 week, multinational military exercise called "Exercise Bersama Lima" that is seeking to train with their countries army, navy and air force.
The Five Power Defense Arrangement Military Pact also requires all participating countries to communicate with each other before they take action if ever Singapore or Malaysia will be under attack.
Though an arbitration court in Hague ruled that China don't have any rights for a territorial claim, China still does not abide with that decision and still sends large Chinese Coast Guard vessel to patrol within the regions.
"The risk of conflict in the South China Sea is significant. China, Taiwan, Vietnam, Malaysia, Brunei and the Philippines have competing territorial and jurisdictional claims, particularly over rights to exploit the regions's possibly extensive reserves of oil and gas. Freedom of navigation in the region is also a contentious issue, especially between the United States and China over the right of U.S. military vessels to operate in China's two-hundred-mile exclusive economic zone", this is according to the Council of Foreign Relations from a recent report.