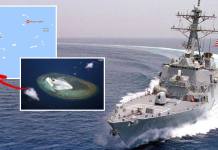 A United States warship which is likely to provoke Beijing sailed again almost closed to the China's occupied islands in the disputed waters in the South China Sea on Sunday.
According to a US Navy official, the operation is a part of their ongoing commitment to demonstrate freedom of navigation in the contested region. Reflecting the American position that the crucial sea lane should be treated as international waters.
The USS Stethem which is an Arleigh Burke-class Aegis destroyer nearly passed less than 12 nautical miles (22 kilometers) from tiny Triton Island in the Paracel Islands archipelago, which is also claimed by Taiwan and Vietnam, the official said.
"No claimants were notified prior to the transit, which is consistent with our normal process and international law," he added.
The operation is the second of its kind carried out by the United States since President Donald Trump took office.
The first guided-missile destroyer, the USS Dewey sailed less than 12 nautical miles from Mischief Reef in the Spratly inside West Philippine Sea on May 25.
A defense analyst explains that a freedom of navigation operations is designed to challenge the sovereignty of countries with claims to disputed territory and the United States has challenged annexations of South China Sea islets while advocating for a diplomatic settlement.
China claims almost 90 percent of the South China Sea regardless if it is under the Exclusive Economic Zone (EEZ) of several Southeast Asian nations which are the Philippines, Brunei, Malaysia, and Vietnam.
According to the United Nation with regards to the International Convention on the Law of the Sea, every coastal country may establish an exclusive economic zone (EEZ) extending 200 nautical miles (370 km) from shore. Within the EEZ the coastal state has the right to exploit and regulate fisheries, construct artificial islands and installations, use the zone for other economic purposes (e.g., the generation of energy from waves), and regulate scientific research by foreign vessels. Otherwise, foreign vessels (and aircraft) are entitled to move freely through (and over) the zone.
But, China has rapidly built reefs into artificial islands capable of hosting military planes and fortifying it with air defense missiles. - JCE.